randstad does not charge any money for interviews or recruitment.
all communication related to offer letters will be sent from official email IDs only
Randstad, the global leader in the HR services industry is continuously in search of talent. However, please be cautioned that certain people claiming to represent randstad - by misusing the brand name randstad/randstad Group or on behalf of randstad and the names of our employees,are demanding money in exchange for interviews or jobs with randstad or clients of randstad. These individuals are also wrongfully using the company's registered trademark using fake and copied websites to legitimize their activities to lure innocent candidates to fall into this trap.
be aware of illegitimate offerings.
If you receive an offering from randstad@gmail, please disregard.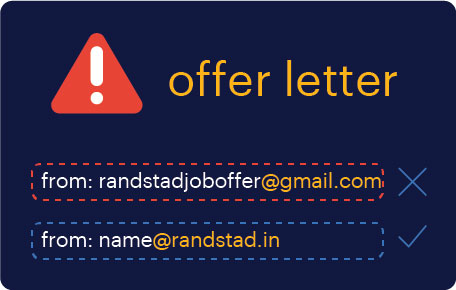 our standard recruitment process
All individuals processed by randstad must undergo a formal interview process with randstad and with the companies that randstad represents before they can potentially receive an employment offer. The standard recruitment process includes a formal email from a randstad email id, phone communications or face-to-face / virtual meeting between the recruiter and the interviewee to understand personal career aspirations, manage job interview expectations and/or to negotiate salary and benefits.
Randstad will not be liable or responsible for any activity of such fake recruiters or their false promise for jobs nor for any loss or damage incurred by such candidates who intend to use their services, which they do so at their own risk and costs.
To report any concerns related to fake job offers, please write to:
real job vs fake job
some key signs of a fraudulent job advertisement or related communications carried out by a non-randstad employee are:
Request for money remittance prior to any job interview or medical check-up for any administrative reasons
Confirmation of job offer before any face-to-face job interview
Vague job description, Poor use of the English language, incomplete sentences and/or glaring spelling errors
Does not have a randstad India email address (@randstad.in)
Communications channels are only limited to social media channels or messaging service (e.g. Whatsapp, Telegram, Instagram, Facebook Messages)
The job is too good to be true
It is recommended that individuals do not follow and/or unfollow unsolicited Facebook groups that promote fraudulent job advertisements. It is also recommended that individuals do not reply to fraudulent job advertisements on social media channels and/or opportunities on cross-platform messaging services. It is never safe to disclose your personal and/or individual banking details with anyone you do not know.
If you have been exposed to a fraudulent job advertisement on a cross-platform messaging service or social media network, received a fraudulent job opportunity from an individual and/or organisation or are an unfortunate victim of such a job scam, we advise you to file an official report with the local police immediately. By filing a report with the local authorities, you are helping us raise awareness of job scams and protecting your family and friends from becoming victims of scams. Please provide the local police with all the information you have as below:
sender's name, mobile number and email address (if any)
a copy of

the fraudulent job advertisement
your communication exchange with the individual and/or organisation
the banking remittance slip (if payment has been made)
At randstad, we do not condone any illegal activities carried out by individuals and/or organisations based on local laws. If you come across a job
advertisement that you are unsure of, we advise you to call the respective randstad offices directly to verify the job advertisement or mail us.
Call us at 1800 267 4050 or send us an email to speakup.lra@randstad.in
please review examples below